The results of Across Health's Multichannel Maturometer 2015 survey have been released.
Benefit from its insights in 3 steps…
1. Preview the highlights from the Multichannel Maturometer 2015 results here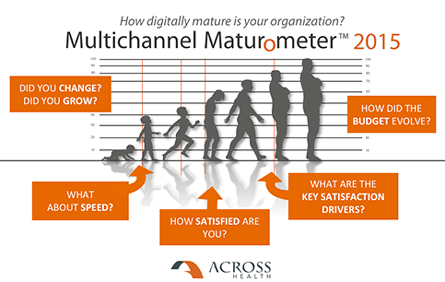 Generally speaking, the 2015 results are in line with 2014 – with historically low satisfaction levels and the 4th consecutive year of plateauing budgets (at a low level). US and Europe are most pessimistic; emerging markets appear to be more positive overall – but that may be due to their relatively new entry into this space.
We do see however a difference in speed in the market – around 14% is implementing multichannel very quickly, is spending significantly more than the average, and feels comfortable with impact measurement etc….multichannel @ multispeed!
We trust that these early leaders will soon be followed by the early majority… Our guess is that 2015 REALLY is the end of the beginning!
2. For more details, see the deck online…
… and view the webinar …
| | |
| --- | --- |
| Multichannel Maturometer 2015 results: Key global trends in pharma | |
3. …then find out how your company compares by conducting your very own in-house survey.

PS: Congratulations to the three winners of the Multichannel Maturometer 2015 prize draw (they preferred not to share their names more broadly)! They will be receiving their much sought after Apple Watch soon...